---
CONVERSIONS
YOUR VEHICLE, CONVERTED BY THE EXPERTS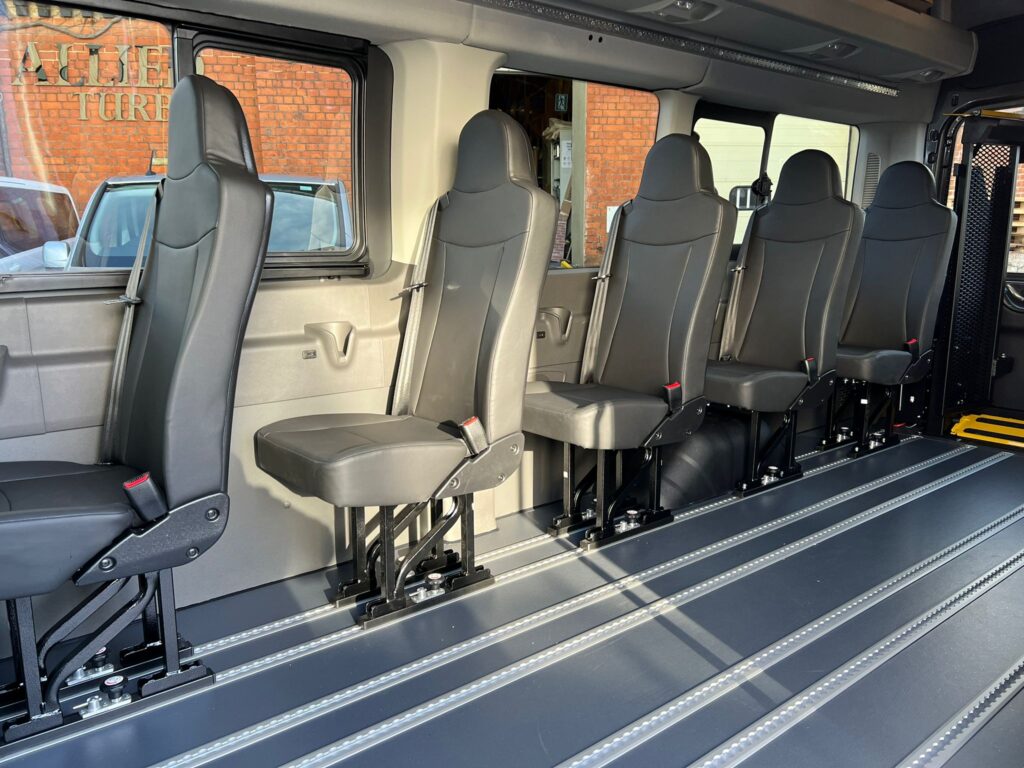 We don't just supply new minibuses and wheelchair accessible vehicles, we convert customer supplied vehicles too.
Our in house team of expert engineers can transform your minibus to accommodate new purposes such as wheelchair access, VIP and executive designs as well as layout changes and cosmetic upgrades.
From bariatric patient transport, local authority contracts to hackney taxis to the plushest of interiors, speak to a member of our team today to discover the possibilities of a purpose built vehicle that is built to order.
MOST POPULAR CONVERSIONS
HACKNEY TAXIS
---
SIDE ACCESS UNDERFLOOR RAMP
POLYMER FOAM COMPOSITE VINYL FLOOR
BULKHEAD, FLIP UP SEATS & POLYCARBONATE PARTITION SCREEN
WHEELCHAIR ANCHORAGES & SEAT BELTS
INTERCOM & IVA CERTIFICATED
REAR WHEELCHAIR
---
CHOICE OF RAMPS & LIFTS
4 POINT ANCHORAGE SYSTEM & W/C 3 POINT SEATBELT
BESPOKE TRACKED FLOOR LAYOUTS
BESPOKE SEATING SOLUTIONS AS REQUIRED
IVA CERTIFICATION AS NECESSARY
EXECUTIVE CONVERSIONS
---
SOFT ENHANCEMENTS TO INCLUDE REUPHOLSTERING
BESPOKE SEATING AND FLOORING LAYOUTS
TABLES, LED LIGHTING & STARSCAPE CEILINGS
VIP WHEELCHAIR ACCESS SOLUTIONS
EXTERIOR COSMETIC UPDATES, WHEELS, BODY, ETC
Need your vehicle converted but don't know how and what you need?
Customers have been trusting The Taxi Shop for years to overhaul and change factory standard minibuses into precision designed purpose built machines. We have designed and built conversions for large local authority operators, sole trader hackney taxi owner drivers and chauffeur companies amongst others. We are not an off-the-shelf converter, we boast the freedom to understand what our customers want and take it all the way back to the drawing board to design new solutions.
Speak to us today and we can provide an insight into the newest technologies and materials on the market to build your vehicle to the best possible standard, providing value for money and a vehicle that is best suited for your intended purpose.
ADDRESS
THE TAXI SHOP, STATION ROAD, AMPTHILL BUSINESS PARK, AMPTHILL, MK45 2QY
a
EMAIL